Grow is an
eco initiative comprising a beautiful Refill Store and our Green Deli + Eatery. We offer plastic free shopping and dining designed to reduce your carbon footprint.
Our vision is Sustainable Luxury.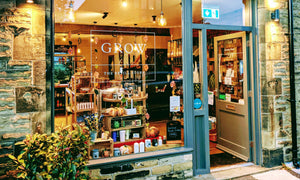 Our ethos
is to promote a relaxed shopping experience where you buy as much or as little as you like – meaning less food waste and less plastic packaging going to landfill. 
It's Refill not Landfill!
The Refill Store
is a haven for healthful wholefoods including pasta, rice, pulses, beans and cereals (plus a few treats!) and you can refill your household and personal care liquids, too. We stock everything from shampoo to toilet cleaner and fabric softener. We have a wide range of gluten-free products, and our whole range is plant-based. 
Our household items and gifts are plastic free, environmentally kind, sustainable, local and unique. 
The Deli + Eatery
is your new go-to for a post-yoga smoothie, weekend brunch and working lunch. We offer a varied and distinctive menu that focuses on fresh, tasty, small-batch wholefood dishes that are locally sourced wherever possible. We also make excellent coffee and have really excellent cake!  
Purveyors of artisan breads and locally sourced fruit and vegetables, you can call in 7 days each week to pick up your sourdough, veg box, olives and humous. 
Plastic-free isn't about being perfect - it's about making small, sustainable changes that promote our wellbeing and the health of the planet.